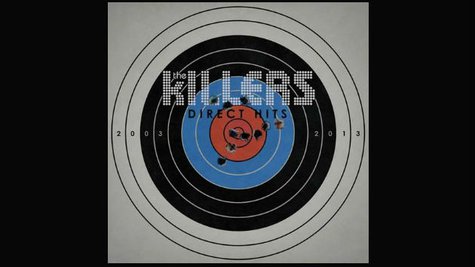 The Killers have announced they'll be releasing a collection of their greatest hits on November 11.
Titled Direct Hits , the set boasts 15 tracks and features a number of the band's biggest singles, including "Mr. Brightside," "Somebody Told Me," "When You Were Young" and "Human." The upcoming release also includes two brand-new songs: "Just Another Girl" and " Shot at the Night ," a track which was recorded with M83 's Anthony Gonzales . "Shot at the Night" will be available for purchase on iTunes starting on Tuesday.
Direct Hits will be released in both standard and deluxe editions. The deluxe edition features three bonus tracks: the original demo of "Mr. Brightside," a Calvin Harris remix of "When You Were Young" and "Be Still" from 2012's Battle Born . A "Fan Deluxe Edition" will also be offered that features the deluxe CD, a DVD that contains a new documentary about the group's career and five 10-inch vinyl records featuring all the songs from Direct Hits .
Here's the track list for Direct Hits :
"Mr. Brightside"
"Somebody Told Me"
"Smile Like You Mean It"
"All These Things that I've Done"
"When You Were Young"
"Read My Mind"
"For Reasons Unknown"
"Human"
"Spaceman"
"A Dustland Fairytale"
"Runaways"
"Miss Atomic Bomb"
"The Way It Was"
"Shot at the Night"
"Just Another Girl"
"Mr. Brightside" (Original Demo) (deluxe edition only)
"When You Were Young" (Calvin Harris Remix) (deluxe edition only)
"Be Still" (deluxe edition only)
Copyright 2013 ABC News Radio