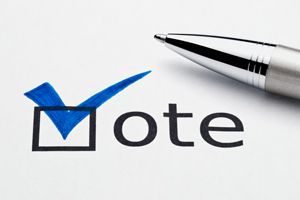 UNDATED (WSAU) -- It's Election Day, and several local non-partisan positions are on the ballot.
There are four Marathon County Board seats that are contested.
In District 13, Matthew Bootz is up against Beverly Krejci. In District 17, Jim Maas is challenging E.J. Stark. In District 26, John Durham and Anneliese Sheahan are running. In District 37, Allen Opal is taking on Gina Cornell.
There are also four Wausau City Council seats being decided. Duane Maatz and Tom Neal are running in District 4. Steven Miller is challenging incumbent Keene Winters is District 6. Jill Viergutz is against incumbent David Overbeck in District 9. Mark Lambert is against Robert Mielke in District 11.
Judge Lamont Jacobsen is also running unopposed in his first election since being appointed to the bench to complete the term of retired judge Vincent Howard.
The Wood County cities of Wisconsin Rapids and Marshfield both have contested mayoral races. In Wisconsin Rapids, one term incumbent Zachary Vruwink is being challenged by his predecessor and former supporter Mary Jo Carson. In Marshfield, incumbent Chris Meyer is challenged by Dorothy Schnitzler.
There are several school board races around Wood County.
A school board race and three county board supervisory seats highlight the elections in Portage County. County Board Supervisor and former Sheriff Stan Potocki is being challenged by Lyne Kawleski in District 11. Jerry Walters and Samuel Levin are running in District 17. Matthew Jacowski is taking on Jerry Piesik in District 22.
County Board member Samuel Levin is also on the ballot for Stevens Point School Board. Another school board candidate with prior election experience is County Clerk of Courts Patricia Baker. Overall, eight candidates are after four seats on a school board that is presently known for being very divided. The other candidates are Terri Fink, Patricia Hetzel, Alex Kochanowski, Bob Larson, Jeff Presley, and Christina Scott.
The Government Accountability Board which oversees Wisconsin elections is predicting that around 13% of eligible voters will go to the polls Tuesday. Polls are open between 7:00 a.m. and 8:00 p.m. statewide.