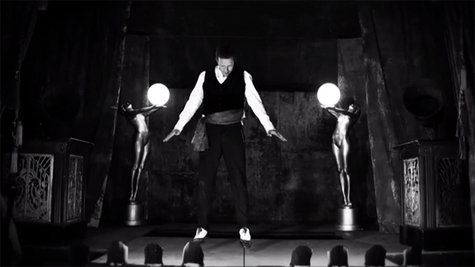 A little over a month after surprising the music world with the first video from their forthcoming album, Coldplay has another video -- for "Magic" -- just posted and streaming now on the band's official YouTube channel .
The video features black and white, vintage-looking footage of carnival tents, with Chris Martin as a magician who is crushed out on his assistant -- played by actress Ziyi Zhang of Crouching Tiger, Hidden Dragon fame. It's produced up to look like a vintage silent film, with dialogue cards displayed between action sequences.
"Magic" is the first single from Coldplay's new album, Ghost Stories, which features nine tracks and is scheduled to arrive in stores and digital outlets on May 19. An exclusive deluxe edition being offered by Target will include three bonus tracks.
If you pre-order the album now on iTunes, you'll receive an instant download of "Magic."
Here's the track listing for Ghost Stories :
"Always in My Head"
"Magic"
"Ink"
"True Love"
"Midnight"
"Another's Arms"
"Oceans"
"A Sky Full of Stars"
"O"
Copyright 2014 ABC News Radio