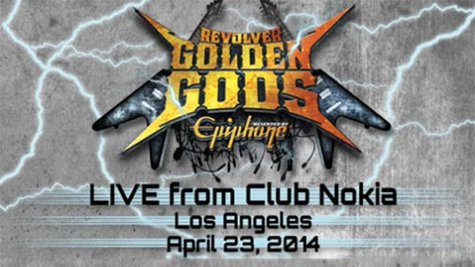 The Revolver Golden Gods Awards take place tonight in Los Angeles. One of the frontrunning bands is Five Finger Death Punch -- nominated in a whopping six categories -- who's competing in the divisions of Album of the Year, Best Vocalist, Best Guitarist, Best Bassist, Song of the Year, and Most Dedicated Fans.
Five Finger Death Punch guitarist Zoltan Bathory doesn't let these nominations, or other similar nods, go to his head. Bathory tells ABC News Radio, "You have great musicians, great bands in the same category. There is no universal scale of who is better and why. Take Jimi Hendrix and Yngwie Malmsteen , you can't compare the two -- both artists are great. One is extremely innovative, the other plays things that no other human can play on the planet. Which one is better? We don't really have a scale."
That doesn't mean that Bathory and his FFDP bandmates aren't grateful for the recognition. He tells ABC News Radio, "The accolades are obviously very appreciated and it always means something of a milestone that you're achieving something."
Joan Jett will make history tonight by being the first woman to ever receive Revolver 's Golden God award, which is given annually to one honoree who "embodies the spirit of hard rock and metal." Jett joins past Golden God recipients including Gene Simmons , Rob Zombie , and Alice Cooper .
Axl Rose will receive this year's Ronnie James Dio Lifetime Achievement Award. The Guns n' Roses frontman will join the ranks of past honorees Rush , Ozzy Osbourne , Metallica , and Lemmy Kilmister of Motorhead .
The Golden Gods Awards ceremony will be held at L.A.'s Nokia Theater.
Copyright 2014 ABC News Radio