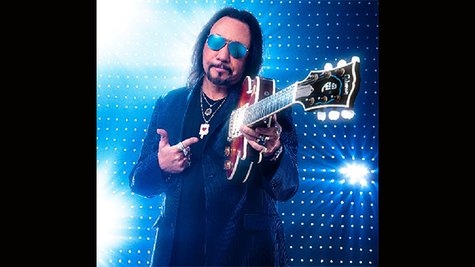 Former KISS guitarist Ace Frehley will invade NBC's Tonight Show Starring Jimmy Fallon this Tuesday, August 12. The newly minted Rock and Roll Hall of Famer will sit in with the Tonight Show 's house band, The Roots , for the entire program.
The Tonight Show airs weeknights at 11:35 p.m. ET/10:35 p.m. CT.
Frehley's appearance will take place one week before the release of his new solo album, Space Invader . The 63-year-old rocker will celebrate the arrival of the record on Tuesday, August 19, with a special in-store appearance at the Best Buy store in New York City's Union Square. Frehley will sign copies of the album at the event, which begins at 6 p.m. ET.
Space Invader features 12 tracks, most of them new original tunes. The album also includes a cover of the Steve Miller Band classic "The Joker." Here is the full track list:
"Space Invader"
"Gimme a Feelin'"
"I Wanna Hold You"
"Change"
"Toys"
"Immortal Pleasures"
"Inside the Vortex"
"What Every Girl Wants"
"Past the Milky Way"
"Reckless"
"The Joker"
"Starship"
Follow @ABCNewsRadio
Copyright 2014 ABC News Radio