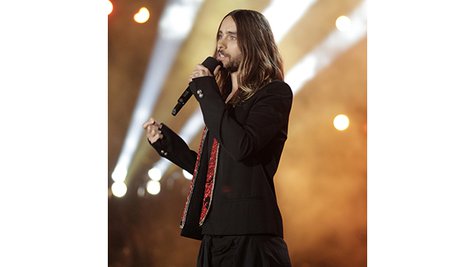 You'd think that being the leader of a successful rock and roll band would mean a life immersed in music. Not so for 30 Seconds to Mars ' Jared Leto .
In a discussion with The New York Times for its Times Talks video series, Leto said becoming a musician changed his relationship to the art form. "I actually don't listen to music barely at all anymore, and haven't for probably 10 years," he said, "because when I listen to music, I work too much."
What he means by that, Leto says, is that because he's a musician himself, every time he hears a song, he can't help but pick it apart, analyzing everything that's going on and thinking about the choices that were made in putting the recording together.
"When I used to hear a song, I heard a song. And now I hear process, I hear choices, I want to fix a part," he explains. "And it actually makes me think too much and it's not pleasurable....When I'm in a car...the first thing we do is we ask them to turn the radio off."
Music's not the only think the musician and actor avoids. In the same interview, he said he has yet to see his Oscar-winning performance in Dallas Buyers Club . In fact, during the interview, when a clip of the film was was played Leto said, "I can't hear that voice! I've never really heard very much of it and I've never watched the film."
The problem, he says, is the gap between his experience of working on the film and the film itself. "It can never live up to the expectations I would have of it now because it was such a beautiful experience and the response that it got was really wonderful," he says of Dallas Buyers Club, in which he played a transgendered woman infected with AIDS. He did say, however, that he would watch it at some point.
Follow @ABCNewsRadio
Copyright 2014 ABC News Radio