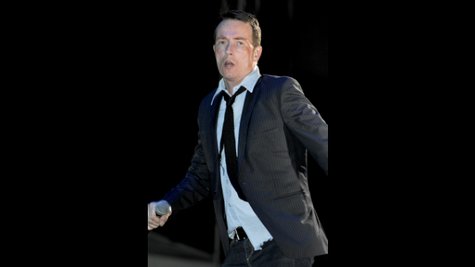 The report that Scott Weiland has been in jail in California for the past month after he was charged with felony possession of a controlled substance as well as burglary? Turns out that wasn't accurate -- it was a guy who looks like Weiland who was busted.
TMZ initially quoted police as saying that the singer allegedly stole razors from a Beverly Hills Rite-Aid store, fleeing when a security guard tried to stop him. Police caught up with the man nearby and when they searched him, they found methamphetamine, according to the report.

After the TMZ report surfaced, Weiland posted a video on Facebook stating that he was in the studio. Despite the video, the Los Angeles County Sheriff's Department initially insisted to TMZ that the rocker was in custody. However, it later stated that Weiland is not in custody, and that the person in question is someone who looks like the singer. An investigation into the guy's identity is under way.
TMZ had reported that the arrest took place late last month and that the man has been in jail ever since on $95,000 bond. He's been charged with burglary instead of theft because police claim he entered the store with the intent to steal the razors: he carrying an insulated bag, police say, that could be used to prevent anti-theft sensors from going off.
Follow @ABCNewsRadio
Copyright 2014 ABC News Radio