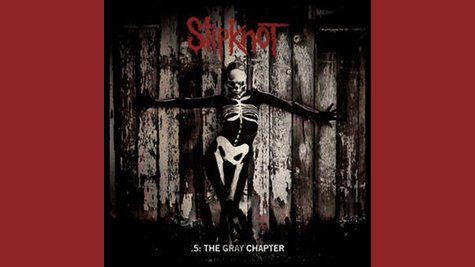 Slipknot fans, it's Christmas in August. On Monday the band announced plans for a fall tour, and there's a bonus: Corey Taylor has tweeted a link to the audio stream of a new Slipknot song, "The Devil in I." Last but not least, the band has revealed the track listing for its new album.
The collection will be released on October 21 and is called .5: The Gray Chapter ; though the cover of the album is gray, the title is unquestionably an homage to late Slipknot bassist Paul Gray , who died in 2010. It seems likely that "The Devil in I" is also a specific homage; Taylor's vocals are mournful and the lyrics include the line, "Some of us are destined to be outlived."
.5: The Gray Chapter will be released in a wide variety of formats, including colored vinyl and a special-edition CD which will feature two bonus tracks. Everyone who purchases tickets for Slipknot's Prepare for Hell tour between now and October 5 will receive a digital download of the full album on its official release date.
Here is the track listing for .5: The Gray Chapter :
"XIX
"Sarcastrophe"
"AOV"
"The Devil in I"
"Killpop"
"Skeptic"
"Lech"
"Goodbye"
"Nomadic"
"The One that Kills the Least"
"Custer"
"Be Prepared for Hell"
"The Negative One"
"If Rain Is What You Want"
"Override" (Bonus Track)
"The Burden" (Bonus Track)
Follow @ABCNewsRadio Copyright 2014 ABC News Radio