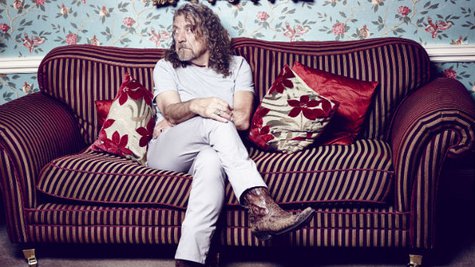 Robert Plant says he's completely enthralled with the music he's making with his latest group, The Sensational Space Shifters , with whom he collaborated him on his soon-to-be-released studio album, Lullaby and…The Ceaseless Roar . He tells U.K. newspaper The Telegraph that his desire to explore new sounds is among the reasons why he isn't interested in taking part in a Led Zeppelin reunion, and he suggests that guitarist Jimmy Page also consider looking forward rather than backward.
"He should get on and do something, he's a superb talent," says Plant. "That's the sad thing for Jimmy, he knows that I'm his guy, I'm his pal, but the warmth that he needs to actually enjoy the world, it's all there. Come on and give it to us."
Regarding his desire to create music with musicians other than the fellow members of his famous band, Robert notes, "Why do it the way you always did it? Why think like that? You never think it could possibly work. And yet, you can take off all your trappings of 30 years of playing and step into this other world."
Plant praises Sensational Space Shifters guitarist Justin Adams , whose playing is heavily influenced by world music, for opening him up to the blend of sounds featured on his upcoming album.
"His contribution, as a positive force in my time, has been second to none," the singer maintains, adding that "he doesn't think the guitar begins and ends with [ Eric ] Clapton , [ Jeff ] Beck and Page."
Lullaby and…The Ceaseless Roar offers up a blend of English folk, Americana, African, Middle Eastern, blues, hard rock and electronic music. "What we've done is consolidate our strengths," Plant says of his collaboration with the Sensational Space Shifters. "[T]hey've gone into the cauldron, spun around and come out with absolute ease. I guess the only thing missing are the words hocus pocus."
Meanwhile, the 65-year-old Rock and Roll Hall of Famer characterizes himself as one of a dwindling breed of singers.
"There are only three or four frontmen left, from our time, who actually just kick the mic stand up and do it, and that's me, Rod Stewart and Mick Jagger ," he tells The Telegraph . "But the only important thing is, can you contemporize your gift? Can I knock myself out, or am I just going through the motions? Because if I'm going through the motions, I'm f***ed."
Lullaby and…The Ceaseless Roar arrives in stores on September 9.
Follow @ABCNewsRadio
Copyright 2014 ABC News Radio