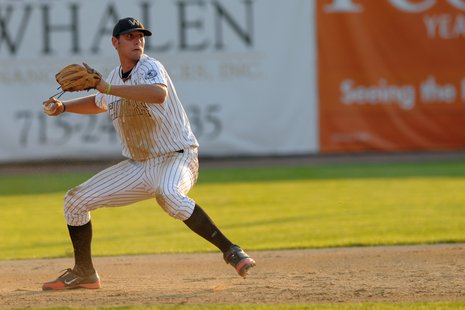 WAUSAU, Wis (Woodchucks) - A familiar face will return to the Woodchucks this summer with the addition of Virginia Tech's Brendon Hayden. The former 36th of the Philadelphia Phillies and Northwood's League All Star will play of the Woodchucks for a second summer.
Brendon Hayden is a Wisconsin native who had an outstanding 2012 summer; in he was named a Northwood's League All-Star. Brendon led the Woodchucks in hits with 74, doubles (18), RBI (51) and sacrifice flies (6), while finishing second in at-bats (216) and batting (among eligible players) with a .343 average, and was third in home runs (6).
Hayden also saw action on the mound as well, tying for third on the team with seven starts and threw in 10 games overall. Tossed 27.1 innings with 17 strikeouts and posted a 1-2 record.
The 6'6 Hayden is dual threat player entering his junior year at Virginia Tech. Last season he made 54 starts – 24 at second, 11 at third, 10 at first, nine as a DH and three as a pitcher – and played in 60 games total. On the mound he appeared in 10 games making three starts, posted a 2-0 record with one save, overall batters hit just .216.