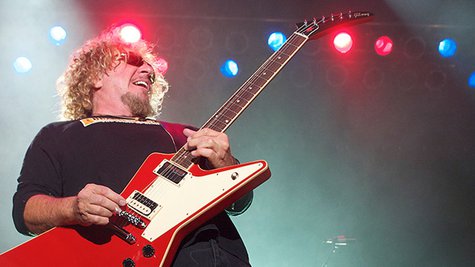 Sammy Hagar will join Alice Cooper , Slash , Vince Neil , Todd Rundgren , Matt Sorum , INXS's J.D. Fortune , Lisa Loeb and System of a Down 's John Dolmayan in Las Vegas Thursday night at a fundraising concert/cocktail party in honor of Chef Kerry Simon .
Simon, who was once dubbed the "rock and roll chef" by Rolling Stone magazine, is suffering from a rare illness known as Multiple Systems Atrophy, or MSA. It's often described as a much more severe form of Parkinson's Disease, and there is no cure. Simon is hosting the event to draw attention to the ailment, and to raise money to fight it.
The event, dubbed Kerry Simon Says Fight MSA, is being held in conjunction with the Keep Memory Alive organization.
The fundraiser, which will be held at the Keep Memory Alive Center, also will feature a silent auction and a live auction.
The night will also feature a superstar lineup of big-name chefs as well as Bill Murray , who used to work with Simon at a Little Caesars Pizza when they were both much younger.
Hagar has known Simon since the '90s. "Any time I was anywhere," says the former Van Halen frontman, "we got together. He cooked. I played rock and roll. He came to the show. I went to the restaurant afterwards and had a party."
As for Thursday's event, Hagar predicts some interesting musical collaborations. "First of all," he says, "Matt Sorum and Slash are not gonna let me play 'Rock Candy,' I can guarantee you, without getting up there, you know, and doing it. And once everybody gets in that room together, I can't imagine what's gonna happen."
But Hagar knows that the real reason for the event is to shed some light on a deadly disease, explaining, "I love what Kerry's doing with this. It's making people say 'wow.' And then if a guy needs a petition or something, the more people are aware of it the more people will sign the petition. And then pretty soon you get things done."
For more information on Multiple Systems Atrophy, check out MSAAwareness,org .
Copyright 2014 ABC News Radio