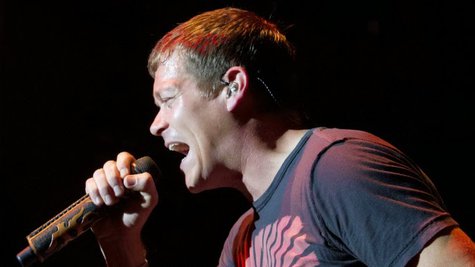 3 Doors Down is keeping busy during the down time between gigs on their Songs from the Basement acoustic tour. Frontman Brad Arnold says the guys have been tinkering with ideas for their next studio album while they've been out on the road.
"We're working on a new record right now, and I think we needed to do so while we're out on this tour," he tells ABC News Radio. "Then immediately following that tour we're gonna really get in there and start working on a new record."
Arnold adds he already has an idea for the forthcoming release, noting he's hoping to avoid writing slower songs and instead to make cuts that are a bit heavier this time around. "We want our new record to be fun, but we also want it to have a lot of meaning, and we want it to be heavy," he explains. "We'll stay away from the slow songs a little bit I think on this, well, you know what, I say that, and then a big slow song will come out. We don't really aim to write anything in particular, it's kind of however it comes out, but we want to stay on the heavy side of things."
3 Doors Down's acoustic tour hits the Chinook Winds Casino in Lincoln City, OR, on Friday and Saturday. The band will wrap up the outing at The Egg in Albany, NY on February 17. Visit 3DoorsDown.com for the full itinerary.
Copyright 2014 ABC News Radio