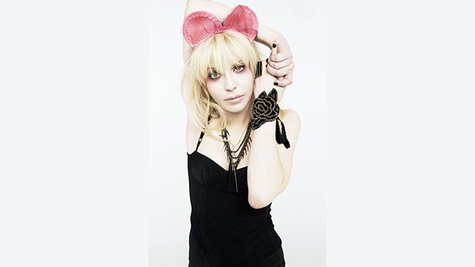 Courtney Love is back acting, and couldn't be happier about it. As previously reported, the singer will appear on the FX series Sons of Anarchy in a recurring role as a preschool teacher named Ms. Harrison, a tip of the hat to Love's birth name, Courtney Michelle Harrison. She tells the Philippine Daily Inquirer , "I thank [show creator] Kurt Sutter for taking a chance on me, bailing me out of actor jail, as we call it. It takes a showrunner like Kurt to have the balls to do that. It's now up to me to make it."
Courtney says that although it's been a long time since she's acted, she didn't miss it "until 2012, when I saw a Sean Penn indie movie. I went to his agent and...I was like, 'How do I get back into this business?'" She says that getting back in the saddle is "about being relentless [though] not to the point of rudeness; you have to have the mojo to just get up, dust yourself off."
Her first take for Sons of Anarchy after such a long absence wasn't quite the success she'd been hoping for. "My first time to act in 11 years, I choked on the first master take. I just choked. I was trembling. I thank God I was across from someone as good as Katey Sagal . She hugged me and I got into her vibe. Every take got better and better. I don't choke, man! And I choked! And I am not on anything."
Music-wise, Hole fans might be in for a disappointment; while Love doesn't completely rule out a reunion, she says, " I don't want to get on the oldies circuit. I don't need to do that for money. I want to put out music that is relevant today."
Earlier this year, Love made headlines by publicly revealing that she and former Hole band mates had been playing together; she later told the U.K.s Telegraph that the band members "may have made out but there is no talk of marriage...It's very frail, nothing might happen, and now the band are all flipping out with me [for speaking publicly]."
Sons of Anarchy is scheduled to premiere September 9 on FX at 10 p.m. ET/PT.
Follow @ABCNewsRadio
Copyright 2014 ABC News Radio