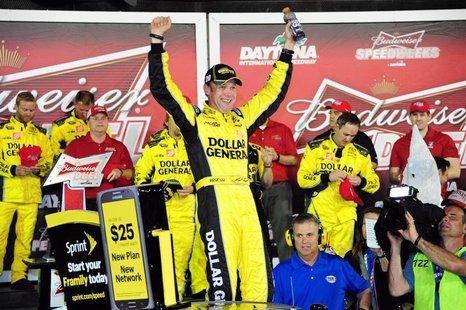 DOVER, DEL (LEARFKIELD-WSAU) Wisconsin's Matt Kenseth moved into first place in the NASCAR Sprint Cup point standings, after he finished third in yesterday's Fed-Ex-400 in Dover Delaware.
Kenseth had spent much of the year one spot behind points' leader Jeff Gordon -- who placed 15th at Dover. Kenseth now has 463 points to Gordon's 461. Kenseth earned his fifth Top-Five showing of the year, and his tenth Top-Ten finish in just 13 races this season.
Paul Menard of Eau Claire had his seventh Top-10 performance of 2014, placing 10th yesterday. He moved up two spots to 14th in the point totals. Beloit-born Danica Patrick was 23rd in the race. She dropped one place for the season to 28th.
Jimmie Johnson won for the second straight week, and his NASCAR-record ninth time at Dover. He's fourth in the standings -- quite a comeback after a Fox interview disclosed during the race that he had hernia surgery last December.