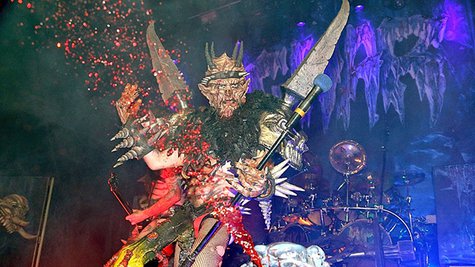 GWAR frontman David Brockie , aka Oderus Urungus, died of an accidental overdose of heroin.
"The cause of death was acute heroin toxicity, which means the manner of death was accidental," said Arkuie Williams , spokesman for Richmond's chief medical examiner, to the Richmond Times-Dispatch .
Brockie was 50. According to the Richmond Police Department, Brockie was found dead in his home on March 23. The cause of death was undetermined at the time, though there was no suspicion of foul play.
Brockie formed GWAR in 1984 and remained the group's only consistent member. GWAR may be best known for its scifi-inspired costumes and graphic onstage antics, though under Brockie's guidance, GWAR emerged as one of the most respected thrash metal bands of the last 25 years. They released 13 full-length studio albums, staged a series of events, including the GWAR B-Q, and even earned a pair of Grammy nods.
Brockie's death comes just two years after former guitarist Cory Smoot , aka Flattus Maximus, was found dead on the band's tour bus in November, 2011. Smoot died of complications from coronary artery disease.
There will be a public memorial for Brockie in Richmond on August 15, the day before this year's GWAR-B-Q.
Follow @ABCNewsRadio Copyright 2014 ABC News Radio