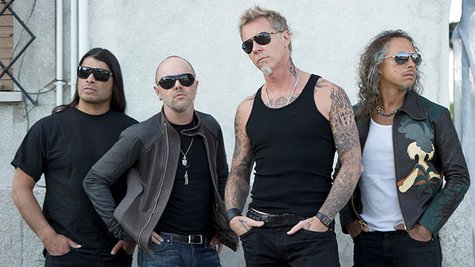 A petition to ban Metallica from playing this year's Glastonbury Festival in England is in full swing.
The petition was begun by animal rights activists upset that Metallica frontman James Hetfield will narrate The Hunt , an upcoming History Channel miniseries about a group of hunters who journey to Alaska in search of the Kodiak brown bear. As previously reported, Hetfield himself has hunted bear.
The group has launched a Facebook page called Remove Metallica from Glastonbury Festival for their Support of Bear Hunting. An anonymous spokesperson for the group tells NME.com, "This is not hunting for the table, for food or survival… The Kodiak Bear Hunt is done using 'traditional' methods [that] rarely result in a 'clean kill' as you would get from a high velocity hunting rifle. Often the animal is wounded and is put through a great deal of pain." The spokesperson adds, "This is not particularly against Metallica; I would do the same if any other band found itself in the same position… Much as I applaud the work that James and the other members of the band have done in other causes, this does not let them off the hook in this case."
The Facebook page had more than 24 thousand signatures as of Thursday afternoon. As of now, the band is set to headline the festival later this month, along with Kasabian and Arcade Fire .
Follow @ABCNewsRadio
Copyright 2014 ABC News Radio