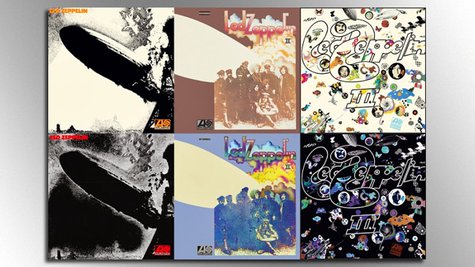 Led Zeppelin fans showed a whole lotta love for the band's new reissues: all three albums have landed in the top 10 of the Billboard 200 chart.
According to Billboard , the revamped editions of the British rock legends' 1969 self-titled debut and two follow-up releases, 1969's Led Zeppelin II and 1970's Led Zeppelin III , bowed at #7, #9 and #10 on the tally after selling 37,000, 34,000 and 32,000 copies, respectively, during their initial week of release.
This marks the first time that an artist scored three top-10 albums simultaneously since March 2012, when Whitney Houston achieved the milestone after her death. The Led Zeppelin reissues also took the top three positions on the Billboard Catalog and Internet charts.
As previously reported, the remastered Led Zeppelin albums are available in a variety of configurations, including Deluxe and Super Deluxe editions that offer a bonus disc of previously unreleased companion audio. The reissue campaign, which is being overseen by guitarist Jimmy Page , will eventually see the release, chronologically, of remastered and expanded editions of all nine Led Zeppelin studio albums.
Follow @ABCNewsRadio
Copyright 2014 ABC News Radio