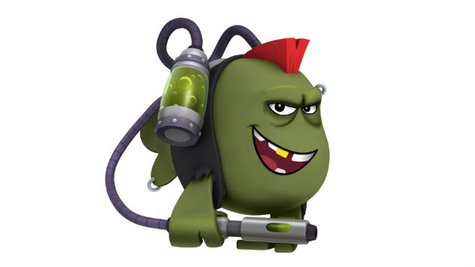 There's something fishy going on with the Prince of Darkness. Rolling Stone reports that Ozzy Osbourne has signed on to voice an animated aquatic character named Sid Fishy that will appear on an episode of the Nick Jr. channel's popular pre-school cartoon Bubble Guppies .
The Metal Madman's character is described as a "rock and roll fish who loves being rotten." As seen in a photo released by Nickelodeon, Sid Fishy sports a red mohawk, piercings in his eyebrow and tail, and a gold tooth. He also carries a contraption that dispenses green slime.
A Nickelodeon rep tells Rolling Stone , "The green liquid is Sid Fishy's 'stink sauce' made up of different smells such as stinky socks and rotten eggs. He wants to use the stink sauce to cover Big Bubble City and all its citizens to make them stinky."
Osbourne jokingly explains to the magazine that Sid Fishy appeals to him because he's "always smelled a bit fishy."
The Black Sabbath singer also admits that the main reason he was interested in portraying the character was that his 2-year-old granddaughter Pearl loves the Nick Jr. channel.
"She has Nick Jr. on 24/7," he notes. "I can't wait to see her reaction when she hears my voice come from Sid Fishy's mouth."
Bubble Guppies is an education series that focuses on a group of creatures who live in the undersea city of Bubbletucky. No word when Osbourne's appearance on the show will air.
Follow @ABCNewsRadio Copyright 2014 ABC News Radio