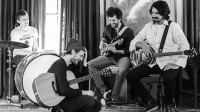 July 1 will see the release of the new album How's Your Process? (Work) , from Red Hot Chili Peppers side project Dot Hacker . Process is the second album from the band and is a follow-up to 2012's Inhibition .
Dot Hacker keyboardist and guitarist Clint Walsh tells Billboard , "We recorded a lot of songs over the last year with the intention of making a single full length album [and] never actually expected that all of them would make the final sequence. However, we quickly realized there was nothing we felt should be left off."
In addition to Walsh, Dot Hacker features Chili Peppers guitarist Josh Klinghoffer , as well as drummer Eric Gardner and bassist Jonathan Hirschke . Everyone except Hirschke was in Gnarls Barkley 's touring band; Hirschke was formerly the bass player in Hella .
How's Your Process? (Work) is the first volume of a dual-disc set. The second installment will be called How's Your Process? (Play) and will be released on October 7. You can preview several songs from How's Your Process? (Work) now on Billboard.com, and three more on ORG Music's Soundcloud page .