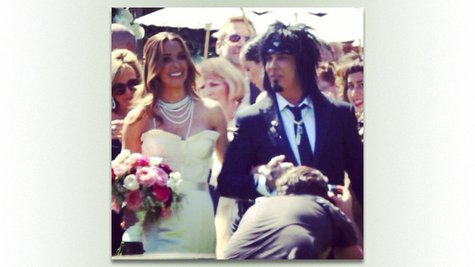 Mötley Crüe bassist Nikki Sixx married model Courtney Bingham on Saturday.
The couple exchanged vows at Greystone Mansion in Los Angeles. Sixx himself confirmed the nuptials, tweeting , "Hot damn. I'm a married man.... @how2girl looked absolutely beautiful. Now it's time to PARTY."
Sixx, 55, has been with 28-year-old Bingham, who runs the do-it-yourself website How2Girl.com , for more than three years. He got engaged in 2012.
Mötley Crüe singer Vince Neil was at the ceremony, and tweeted , "CONGRATULATIONS TO MR AND MRS NIKKI SIXX!!!"
Some 130 guests were in attendance, according to People magazine. The publication states the wedding had a "gothic rock meets French countryside theme."
This is the third marriage for Sixx. He was married to Playboy Playmate Brandi Brandt from 1989 to 1996, and to Baywatch actress Donna D'Errico from 1996 to 2007.
Copyright 2014 ABC News Radio