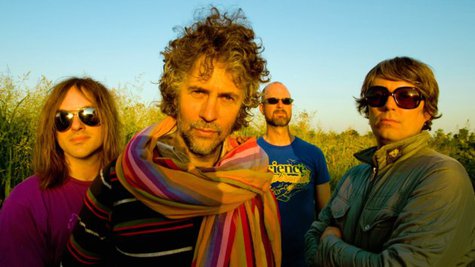 "Miley in the sky with diamonds" has a nice ring to it, doesn't it? The Flaming Lips are teaming up with Miley Cyrus to record a cover of The Beatles classic "Lucy in the Sky with Diamonds."
Flaming Lips frontman Wayne Coyne has addressed the collaboration a couple of times on his Instagram feed in recent days. On Friday, he posted a photo of Miley rolling a joint in the studio , and wrote, "Yup...... Recordin with Miley... High as f***...."
The following day, Wayne posted another photo, this one of Miley in front of a microphone , with sparkle graphics appearing to pour out of her mouth. He wrote, "Miley in the studio vomiting diamonds while singing Lucy In The Sky With Diamonds!! If you're a Beatles and John Lennon freak you gonna love love love this track!! Got Andrew from MGMT too!!!!" referring to MGMT's Andrew VanWyngarden .
Cyrus has also posted a couple of pictures from her time with Wayne, though they mainly show off her new tattoo: a cat shedding a tear, inked on the inside of her lower lip .
This isn't the first time Miley has joined forces with Coyne. She performed with him and fellow Flaming Lips member Steven Drozd at her concert in Los Angeles.
Flaming Lips performed "Lucy in the Sky with Diamonds" with John Lennon's son, Sean Lennon , on CBS' Late Show with David Letterman last month, as part of the late-night program's tribute to the 50th anniversary of The Beatles' first appearance on The Ed Sullivan Show .
Copyright 2014 ABC News Radio