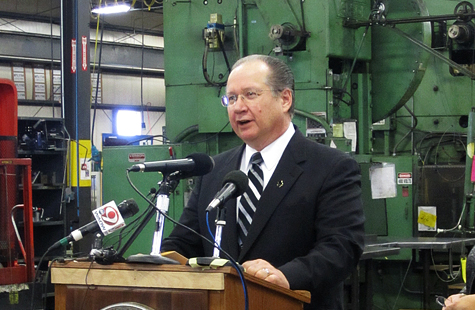 UNDATED (WSAU) -- The last of central Wisconsin's state legislators has made his re-election bid official. 29th District State Senator Jerry Petrowski announced Friday he will seek his first full term after serving the last two years of a vacated seat.
Petrowski was in the State Assembly for 14 years before being elected to the Senate to replace Pam Galloway.
Petrowski said, "By working together, we have accomplished a great deal over the past two years." He said elected officials still need to continue to focus on keeping the jobs we have and do everything we can to create additional jobs. Senator Petrowski currently serves as the Chairman of the Senate Transportation, Public Safety and Veterans and Military Affairs Committee, Vice Chair of the Senate Economic Development and Local Government Committee, and is a voting member of several other committees.
The 29th Senate district consists of Marathon, Taylor, Rusk and Sawyer Counties along with parts of Wood and Clark Counties.
Earlier, incumbent Representatives Mandy Wright, Bob Kulp, John Spiros, and Katrina Shankland have announced their intention to seek re-election.