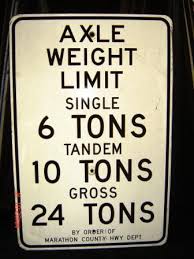 WAUSAU, Wis. (WSAU) -- Not every county has relaxed the spring highway weight limits. One of them is Marathon County.
Highway Commissioner Dan Raczakowski says the seasonal weight limits are still in place for all Marathon County highways. They will meet next Thursday to discuss road conditions and they may choose a date to lift the restrictions at that time.
Rackowski says truckers should not expect the limits to be removed anytime before Monday, May 19th... and perhaps later.