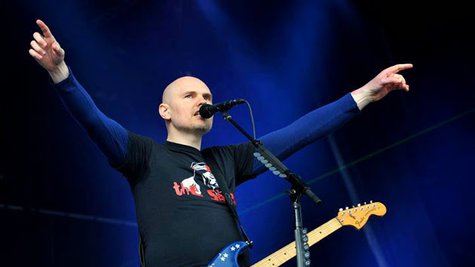 If you're a Smashing Pumpkins fan, it might be in your best interest to snap up multiple copies of the band's new material: frontman Billy Corgan is ready to disband the Pumpkins if the two new albums he's recording don't do very well.
That statement comes from Corgan himself, who tells the Chicago Tribune that the two collections -- Monument to an Elegy and Day for Night -- are a test of sorts. "When this process [of recording and releasing the two albums] is over," he says, "I'm either going to bail on this ship for good, like 'I'm done,' or I'm going to have a new ship to sail on."
Corgan says he's cranky about being perceived as a nostalgia act, griping to the Tribune reporter, "How do you say, 'I still matter'? How do you say, 'How does one of my contemporaries get treated like a contemporary artist, and how do I get treated like I'm supposed to play "Siamese Dream" for the rest of my life?' At some point you've got to fight this fight or go away."
You can read the whole interview -- including Corgan admitting that doesn't understand why people think certain albums by The Beatles , Beach Boys or Ramones are considered great -- on the Chicago Tribune website .
Follow --ABCNewsRadio
Copyright 2014 ABC News Radio