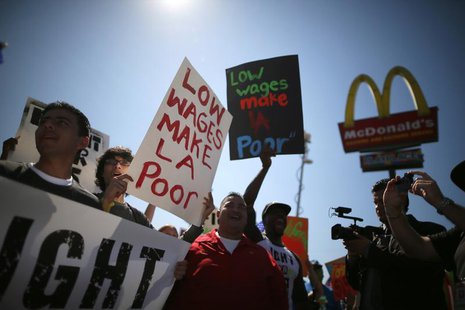 WAUSAU, Wis. (WSAU) -- You may wish to plan your lunch hour carefully. Another strike is planned by fast food workers Thursday in many cities including Wausau.
Workers and organizations that back their quest for a $15.00 an hour minimum wage and the ability to form unions are staging similar strikes in over 150 cities nationwide.
The pro-union group Wisconsin Jobs Now is organizing the local strike, and has support from several Democratic elected officials and candidates, including Congressional candidate Kelly Westlund and Assembly candidate Nancy Stencil. Father Dean Einerson from Rhinelander is also working with the group.
The Wausau strike is targeting the Schofield Avenue Wendy's restaurant at noon and the Stewart Avenue Hardee's at 1:00 p.m. The strikes began in New York and have had some success nationwide, and have prompted some restaurants to raise wages. Most of them have also raised consumer prices to cover the cost.
President Obama has said he supports a national minimum wage of $10.10.