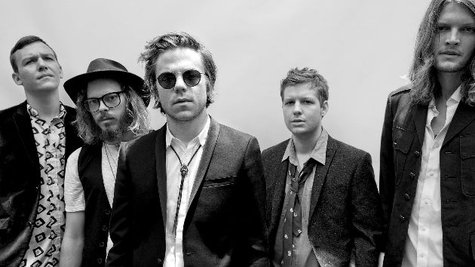 As Cage the Elephant heads out on tour this week opening for The Black Keys , the band is set to give fans who haven't gotten a chance to see them in concert a little taste of their live show.
On October 7, Cage the Elephant will issue The Live EP -- a five-track digital download recorded in concert this past May at Denver, Colorado's Ogden Theater. The EP will feature a performance of the band's 2010 hit "Shake Me Down," as well as performances of four songs from the band's most recent album, last year's Melophobia .
One of the Melophobia songs performed on the live EP is "Cigarette Daydreams," and Cage the Elephant has just released a moody new video for the track.
The surreal, mostly black-and-white clip opens with quick cuts that recall bits from home movies and from French cinema of the late '50s and early '60. Eventually, a story of sorts emerges: woman appears to be kidnapping and killing herself, or her double. The woman, played by frontman Matt Shultz 's wife, winds up dancing with Shultz in front of a car she's torched, with the double tied up in the trunk.
Speaking about meaning of the clip, director Mark Pellington says in a statement, "A murder mystery? A love story? Real life madness? 'Cigarette Daydreams' is an ambitious music video/short film inspired by real events and fictional images. It is a fractured, hallucinatory love story hatched by myself and...Matt Shultz."
Cage the Elephant will be opening for The Black Keys through September 28, after which they have a few more headlining dates scheduled. Check out CageTheElephant.com for details.

(A commercial may play before the video begins.)