Official Tailgating Station of Pointer Football
Rock 94.7 is your OFFICIAL station for Pointers tailgating!
Event Info
Join us before every home game for music, fun, and prizes! You could walk away with a Green & Gold jersey before every UWSP home football game. Look for Rock 94.7 to be live to find out how to win.
Pointers Home Game Schedule
We'll be at all of the home games from 11:00-1:00pm.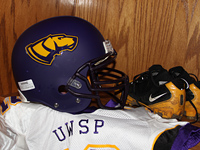 9/29: vs. UW-La Crosse (Pink Game and Spud Bowl)
10/20: vs. UW-Eau Claire (Homecoming)
10/27: vs. UW-Whitewater
11/10: vs. UW-Platteville (Senior Day)
Check out the UWSP Athletics site for the complete schedule, more details, and ticket information.
Take Some Photos and Win
While you're tailgating, make sure to take a ton of pictures, you could use those pictures to win tickets to see Journey at the Resch in Green Bay! All you have to do is upload your pics to our Tailgating Pics page for a chance to win.
Make sure to show how fun your tailgating experience was, include logos, food, games, or anything that sets your tailgating experience apart. After every home game we'll pick a winner and send them to Green Bay to see Journey!
Check out all the photos from both us and other fans »