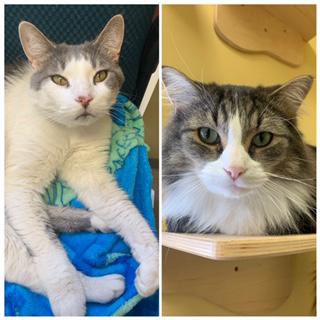 Have you seen a more handsome duo! Meet Big Boy and George! These 5 year old brothers are just the sweetest! They have the best personalities and want nothing more than to find a nice sunny spot to lounge and birdwatch all day! They have lived around other cats and are great with them but we are not sure if they have ever lived with dogs before. They came to the shelter because their family was moving and could not take them with so we are hoping that they are able to find a home that would keep them together since they love to be around each other so much! We are offering the 2 for 1 adoption fee to family that is able to keep them together! Their adoption includes them being fixed, up to date for their first year of vaccinations and being microchipped! Stop down and meet them or contact the shelter!
Meet Big Boy and George at the Lincoln County Humane Society at 310 N Memorial Dr, Merrill, 715-536-3459. Check out the adoptable pets here https://www.furrypets.com/2012/pets-detail1.php
Adoptable pet of the week brought to you by Marathon Town and Country.