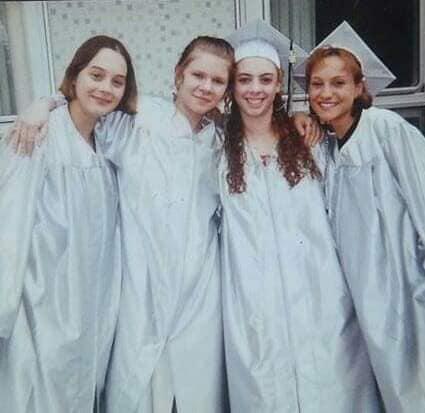 So many young people put so much pressure on themselves to have a plan and to stick to it. They compare themselves to others and gauge their successes based on others. The reality is your path is yours and yours alone. You can plan it, but don't get discouraged when plans don't work out. Don't stress out that your friend is 21 and bought a big house, got married and has kids while you're still finishing school with no clue what will come next. The biggest thing is that you need to cut yourself a break and do what makes you happy because nothing is promised.
The girls in this photo had plans. We all had been accepted to college, some of us had aspirations of big careers, others of big families. We all had dreams of what our futures would be like. Let me tell you about these 17 and 18 year old girls and what we had planned to do and where we ended up.
Holly is on the left. Holly and I (far right) had been friends since daycare. She and I had gone through times we were really close and times when we grew apart, but we were always friends. She out of all of us was the least concerned about future plans. She lived for the day. She was so much fun to be around. She did go to college and she did have a good job caring for people and she continued her education to further her career in human resources. She was also a young mother and wife. She loved her son with all her heart and though her marriage didn't last the two of them did well raising their son together. In 2014 at the age of 34 she was diagnosed with lung cancer. She had been a smoker from a young age, but she had quit several years before her diagnosis.  By the time they found it the cancer had already turned metastatic and had spread to her brain. She was set to start chemo, but fell ill with pneumonia prior to her first treatment and passed away only 10 days after her diagnosis.
Felicia is pictured next to Holly. She and I weren't friends when she first moved to town. It took the loss of a mutual friend for us to become friends and when we did we became best friends. She is Godmother to one of my twins and I am Godmother to her oldest son, who would've thought after the rocky start we had. After high school she went to a two year college while she figured out what she wanted to do for a career. She ended up getting her bachelors in business management. She got married at 22 and she and her husband had two boys. She worked as a manager / regional manager in a few different retail stores and she was doing great in her career until she was diagnosed with stage II breast cancer in 2011 at the age of 32. When she was diagnosed her outlook was pretty good. She had a double mastectomy, did chemo and radiation and she was considered in remission. That was short lived and then in 2013 she found out her cancer had come back as stage IV metastatic breast cancer and had spread to her lungs and liver. At this point there was no cure just treatment. She was working at the school where her kids attended in the lunch room and then she got certified as a substitute teacher. She never planned on being a teacher, but loved the job and working with the kids so much. She had so many plans of what her life would be, but cancer had other ideas. She made it a point to not put things off and do things she loved and always wanted to do. She wanted to experience Disney World with her boys, go on a cruise with her husband and enjoy getaways with friends so she did. She eventually became so sick she had to give up teaching. Cancer took her from us in December 2019.
Jaime, don't worry she's healthy. She and I have been best friends since 1st grade and she's Godmother to one of my daughters! We actually went to the same babysitter before we were in school, but don't have memories of that. Jaime and I were inseparable from 1st grade all the way through high school. We applied to the same colleges and promised to attend the same one. We both got accepted to UW-Stevens Point and decided to save some money by living at home and commuting together. We would meet up throughout the day in college to have lunch together or just study or whatever, I'm telling you inseparable. She was going to school to be a nutritionist. She dealt with an eating disorder in high school so she wanted to help other young girls. Plans changed when she got pregnant our Freshman year and she left school. She had always wanted a big family so she was on track for that plan. She and her husband had a second son and much to her dismay he didn't want any more children. That was a giant struggle for her. When I had kids she offered to babysit on days that she had off from her other job and I gladly said yes. She got comfortable working the same job she worked in high school and finally moved to a different department recently, but then lost her job due to the pandemic. She's been going through a lot personally and now the loss of her job she's really lost. She babysits my kids almost everyday and I think that helps her cope. You can't plan for the bad things to happen, but you can make a plan to recover and that's where she's at right now. Her future is even more uncertain than it was when took that picture above.
I have always been a planner. From a young age I loved watching the news and I wanted to be a reporter on TV. I went to college at UW-Stevens Point for communications with emphasis in Broadcasting and Journalism and a minor in Political Science. I had intended to be a political reporter. I wanted to report from the hill in Washington D.C. Well things didn't quite work out that way. I got a job close to home in radio and I love it. At least it's still in my field. I started my family much later than the rest of the girls in this photo, but I was focused on my career. I think out of all of us my path has been the most planned. I started working for my current employer while in college in 2001 and a little less than a year after I graduated I got hired on full time. I continued to work towards promotions to the position I'm in today. I got married at 25 and had my kids in my early 30s. I wouldn't be where I am and doing what I do today if it weren't for two of the ladies above. Felicia's drive inspired me to keep working hard to advance my career. Jaime's desire for a big family and to care for my kids as her own has allowed me to continue working. And there's so much more I could say about both of them.
I keep reminding myself not to get too comfortable because as I have seen with friends sometimes life can throw you curve balls and things can change so quickly. I want to live everyday to the fullest and enjoy every moment I have with my family and friends. I look at this picture and it makes me sad to see these girls that had so much to offer the world that are now 2 of them are gone.
Someone asked me how I felt about turning 40 this year and I said "blessed." I am blessed to be given another year because the future isn't promised.