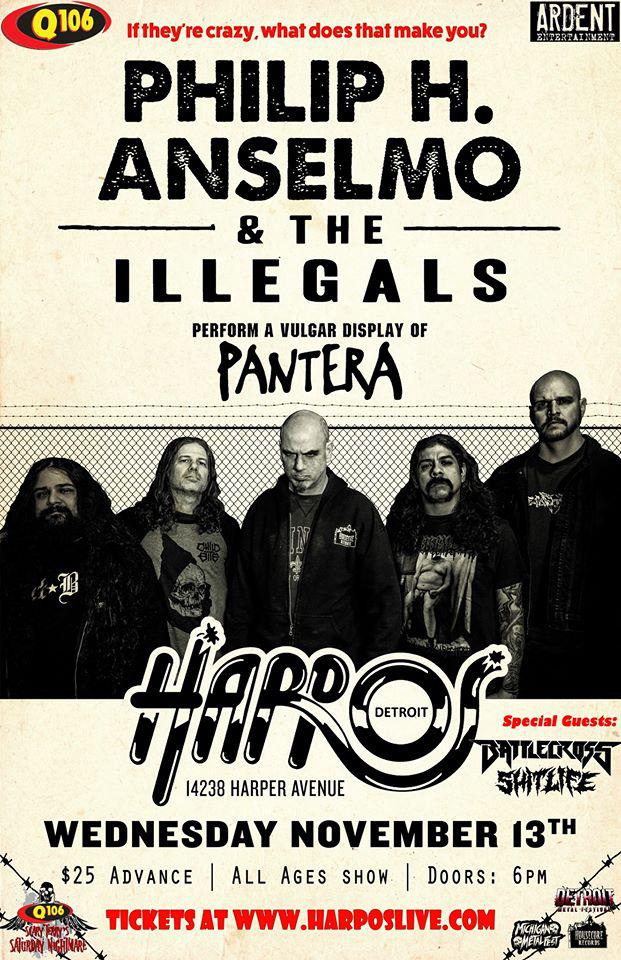 When Dimebag Darrell passed in 2004, the hopes of a full Pantera reunion passed with him.
When Vinnie Paul passed in 2018, we were faced with a world where only 50% of Pantera still walked the earth.
Likewise, Phillip H. Anselmo was left with being one of two guys who now shoulder the responsibility of representing the band in the public eye.
This is PANTERA we're talking about, a band that absolutely CHANGED THE GAME for how metal was going to sound for decades to come.  A band that inspired millions of kids to pick up guitars and play sick as hell grooves and breakdowns.  A band whose messages of self-empowerment got millions THROUGH STUFF.
After taking the Illegals overseas, and performing sets of Pantera songs overseas, and one stop in LA, Anselmo decided it was time to take the show across the U.S.
I was in attendance during the SOLD OUT "Vulgar Display of Pantera" stop at Harpo's in Detroit.
THE VENUE
I'm a recent transplant to Michigan.  When I told people I was going to Harpo's, I was warned that the venue was "rough".  Apparently, it had fallen into disrepair over the years.  Harpo's was recently taken over by Rusvelt Stevanovski, a Detroit legend when it comes to metal shows.
Forget whatever you've heard about Harpo's past, because its future is BRIGHT.  The venue's renovations look terrific.  There are still a few bits and pieces that need TLC, but they're coming along nicely.   You can meet Rusvelt and check out the venue's history and progress here.
This show was my first exposure to Harpo's.  Sightlines are great.  Security is SUPER CHILL.  It's right off the highway.  I'll definitely catch more shows there.
THE FIRST OPENER
Detroit's **** Life (Look, Standards & Practices, that's the name of the band.  You're going to have to live with the clumsy edit on the fist half of their name.) took the stage first, performing a pummeling set of straight up grindcore.  I'm a lifelong fan of Napalm Death, and this band definitely took me back to their earlier sounds.
The drummer has cardio for DAYS.
People who came to the show just to hear "Walk" may have been a bit taken aback, but I enjoyed them.
THE SECOND OPENER
Canton Michigan's  Battlecross was up next.  I've enjoyed these guys since their first album, but this was my first time seeing them live.
WORTH...THE...WAIT.
Battlecross is relentless live.   That new wave of thrash still sounds fresh .  Also, lead vocalist Kyle "Gumby" Gunther's beard game is strong.
THE HEADLINER
Before Battlecross went on, I was given the opportunity to hype the crowd and plug my radio stuff.  Perks of the job.  So, I get up on stage and see this...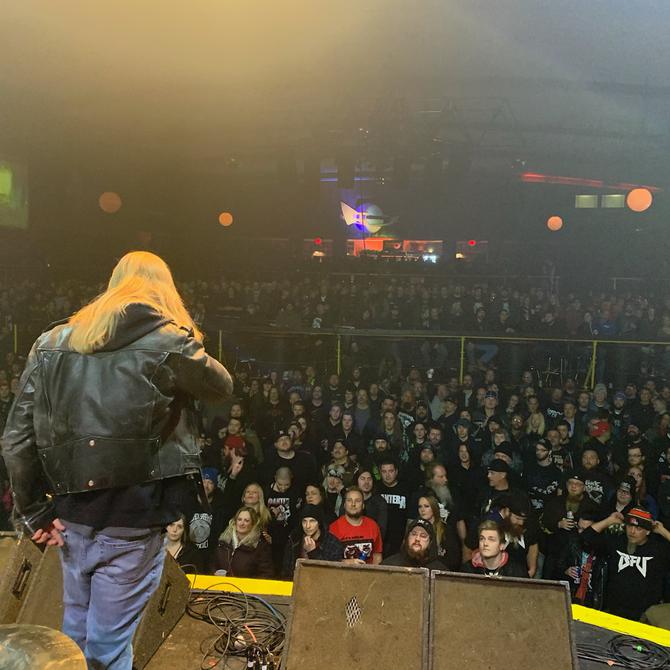 PHOTO CREDIT:  Clark Powell, Midwest Communications, Inc.
SOLD...OUT...SHOW...
We've been waiting for this since 2004.  Finally, a member of Pantera was going to do an ENTIRE set of the legendary band's legendary songs.  Anticipation was HIGH.  I didn't envy Phil or any member of The Illegals.  They had a hell of a job on their hands.  Imagine being in that band and seeing that in front of you.  Could anyone every truly be up for that task?
In this case, the answer was an emphatic YES!
After opening with some sick, groove-oriented breakdowns, from The Illegals, Anselmo joined them on stage.  His opening message, "This show is for Dimebag and Vinnie".
Class...freaking...act.
The love in the room hit an all time high and didn't stop all night.
The Illegals were SPOT ON.  Not a single note was missed.  I especially appreciated how they slowed down "A New Level" just a hair to let the absolute POWER of that song dig in harder.
Hearing a full set of these songs live again is a stark reminder that NOBODY writes breakdowns like Pantera did.  Every single modern metal band who slowsssssss... iiiiiiiiiiiiiiiiiiiiiiit...waaaaaaaaaaaaaaaaaaaaaaay....dowwwwwwwwwwwn owes a debt of musical gratitude to Pantera.
And Phil?  On...POINT!  He may not have as much access to that upper register at this stage in the game which kept earlier "Cowboys From Hell"-era songs out of the mix, but he absolutely CRUSHED every single song on the setlist!
There is something about being in a room with a bunch of people you've never met before in your life, yet you're all there for the same love, and you're all singing your favorite songs from your favorite band together.  It's magic, man.
I interviewed Phil a few weeks before the show.   You can listen to the whole thing here .  During the interview, and during the performance at Harpo's, he stated that "These songs are OURS, meaning us AND the fans."  That was VERY evident.
I had the good fortune to see Pantera when they were touring in support of the "Far Beyond Driven" album back in the day.  (White Zombie and Trouble were the opening acts.  It was freaking sweet.)
Pantera was a band.  Today, they're a LEGACY.
You couldn't ask for better stewards of that legacy than Phillip H. Anselmo & the Illegals' "Vulgar Display of Pantera".
SETLIST
Lots of favorites with some cool surprises.
" Mouth for War "
" Goddamn Electric "
" This Love "
" Use My Third Arm "
" I'm Broken " (With a little " By Demons Be Driven " on the outro)
" Walk "
" ****ing Hostile " (With Kyle "Gumby" Gunther of Battlecross helping on vox.  That guy's living the dream, no?)
" Domination / Hollow "
Encore:
" A New Level "