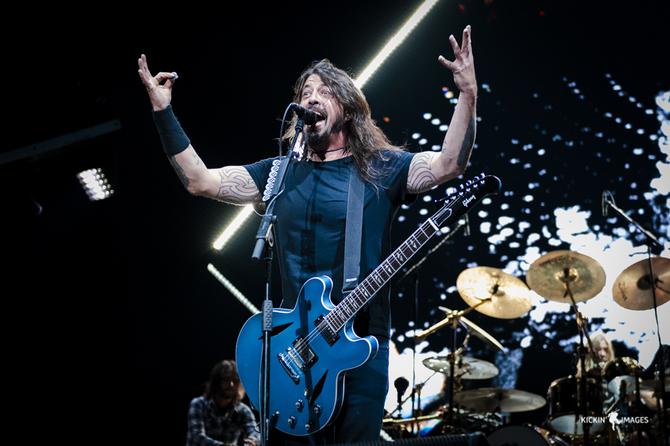 Dave Grohl at Fiserve Forum in Milwaukee - Photo by Ron Tupper
Send in the congregation
Fans filed in to the sold-out Fiserv Forum on Wednesday to see Foo Fighters return to Wisconsin. Their last show was in Madison in November 2017. On this night fans were treated to a two hour and thirty-six-minute set that Dave openly admitted was like a 'paid rehearsal.' And to his point, he's absolutely right. Some 15,000 fans willingly congregated to see the band in the same week where the Eagles and Metallica also played the venue.  Even the Foos came early to check out the Metallica show and make a backstage cameo with show emcee Jim Breuer.
The voice upon the stage is the heart inside a cage
Run is a great lead off live song. Foo Fighters cranked through set list staples, cover songs and solos. The show is a bit self-indulgent at times, but not to the point of excess. These guys have earned the right. They seem to play soft then loud at just the right moments and 'jam' when it fits the song or mood.
Dave was a bit rundown from a cold and his voice was strained from the constant touring over the past year and a half, but it never got in the way of him giving his best. He understands the fans paid good money to see a show and all six members contributed. Dave relied a bit more on Taylor Hawkins vocals during the chorus and allowed him to take lead on more songs than the show in Madison. "How great to have a drummer that can also sing," Dave adds. This gave his own voice a much needed break to get through the set.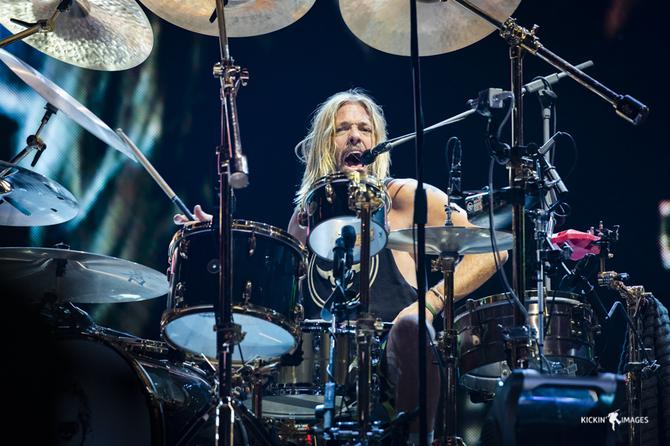 Taylor Hawkins at Fiserve Forum in Milwaukee - Photo by Ron Tupper
Now my world is in your hands
Let's face it, Dave is like a rock and roll encyclopedia and curator all in one. The band is setup to bounce between their own songs and honor ones from the classics as well. While having a catalog of nine studio albums to choose from, the best part of the show is during band introductions and when faithfully covering Tom Petty's Breakdown during the encore. Breakdown as a full 7:45 minute jam, complete with a Doors-esque keyboard improvisation.
During that 25-minute portion of the set, the audience had an entire rock history lesson with every sound and influence from Chuck Berry, Metallica, Ace Frehley, Faces, Ted Nugent, and Alice Cooper to The Ramones, Freddie Mercury, Ray Manzarek and John Lennon. Can you imagine the scope of cover songs these guys must know and play?
The music started with guitarist Christ Shiflett singing Under My Wheels as Foo Fighters pay tribute to Alice Cooper and his Wayne's World history lesson on Milwaukee .
Nate Mendel breaks into the bassline with Another One Bites the Dust. After a brief keyboard solo, Rami Jaffe slips into a Faces cover of Stay With Me, complete with Taylor Hawkins on vocals.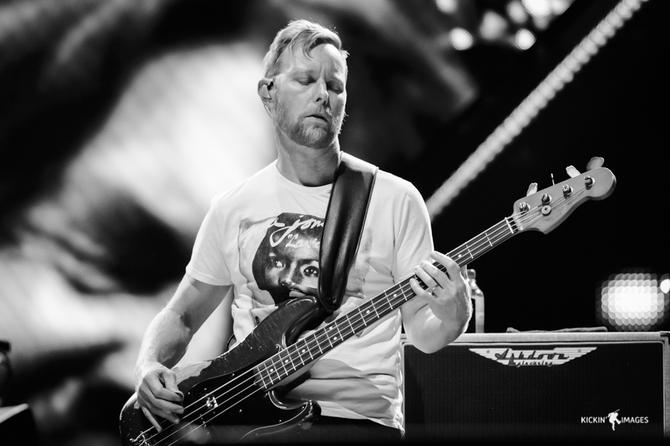 Nate Mendel at Fiserve Forum in Milwaukee - Photo by Ron Tupper
Next up, Dave says he wants to sing a song to bring the fans together. He calls it "a song of love, peace and togetherness." He dives into a mashup up rendition of John Lennon's Imagine with Van Halen's Jump. You have to hear it to believe it . And yes, the crowd is in on the joke.
Lastly, Taylor gets his turn to shine up front as the lead singer and Dave takes a backseat on the drums to play Under Pressure by Queen.
Open your eyes, step in the light
Like all things that come to an end, the worldwide Concrete and Gold tour wraps in October. Dave was in a reflective mood and took time to honor his bandmates. Referencing Taylor Hawkins as, "The best f*cking friend anyone could have," and even calling guitarist Pat Smear "My lifelong friend." They were sentimental and sincere moments.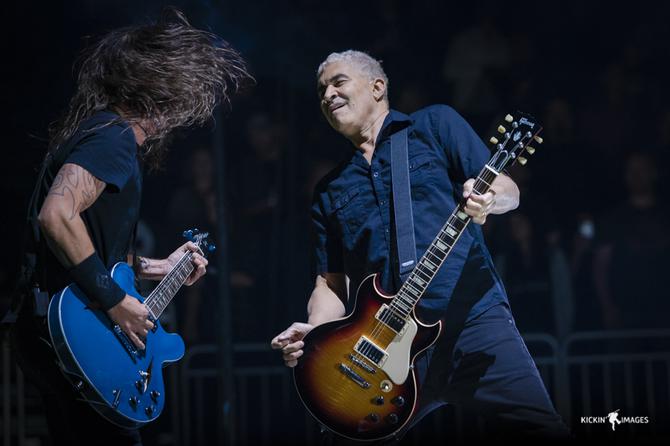 Dave Grohl and Pat Smear at Fiserve Forum in Milwaukee - Photo by Ron Tupper
The day of the show, a Billboard podcast published an interview with Dave Grohl stating "I'm ready to take a break," But by now you know Dave may rest but he never quits. It is written right there in the lyrics of All My Life -"Done, done and on to the next one. Done, I'm done, and I'm on to the next."
Set list
Run The Sky is a Neighborhood
La Dee Da
(Drum Solo)
Sunday Rain
Something From Nothing
Walk
These Days
The Pretender
Times Like These
All My Life / Cat Scratch Fever
Learn To Fly
Band Introductions
Chris Shiflett (guitar solo and vocals) / Under My Wheels
Nate Mendel Bass Line / Another One Bites The Dust
Stay With Me (Faces cover with Taylor Hawkins on vocals)
Rami Jaffee / Keyboard Solo
Dave Grohl / Imagine Jump Mashup
Pat Smear / Guitar riff and Blitzkrieg Bop
Taylor Hawkins / Under Pressure (Taylor vocals with Dave on drums)
My Hero
Breakout
Everlong
Encore:
Monkey Wrench
Breakdown (Tom Petty cover)
Best of You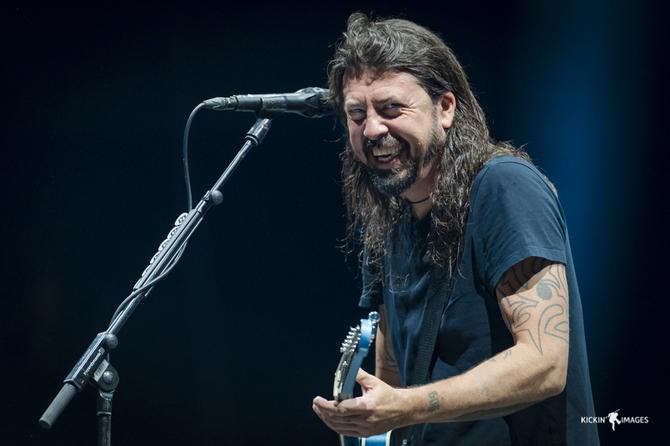 Dave Grohl at Fiserve Forum in Milwaukee - Photo by Ron Tupper
Band members
The album