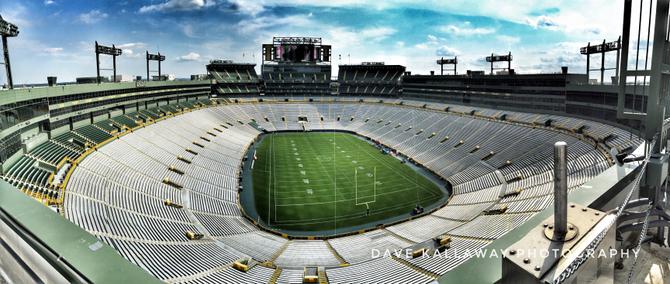 Since its inception in 1950, the Midwest Shrine game has raised more than $4 million for the Midwest Shrine's burn centers and hospitals.  To recognize Play Football Month, four teams from Wittenberg-Birnamwood Area Youth Football Program will scrimmage at halftime. In addition, 1,900 tickets have been donated to youth football teams and Play 60 programs.
The Wisconsin Department of Transportation is also reminding motorists that they should allow extra time traveling to Thursday's game, as commuter traffic and ongoing construction projects may cause travel delays.  This is a 'Gold Package' game with higher numbers of fans travelling north on Highways 41 and 43.
Timeline of Events
Parking lots open at 3:00pm for permit holders
Johnsonville Tailgate Village opens at 3:00pm with live music
Live music begins in the Titletown District at 3:00pm
Stadium gates open at 5:00pm
Fans receive a free magnet schedule at the gates
National Anthem by Shrine Hospital patient Janine Brass
There will be no flyover Thursday night
Kickoff is at 7:00pm
Kevin Harland and James Lofton call the game on the Packers Television Network
John Kuhn and Lance Allan serve as sideline reporters for the TV broadcast
Wayne Larrivee and Larry McCarren have the call on the Packers Radio Network
Green Bay is 36-30-3 all time in the Midwest Shrine Game series
High School Halftime QB Challenge: Milwaukee Riverside vs. Milwaukee King
Wittenberg-Burnamwood Chargers peewee football scrimmage also at halftime
As always... GET LOUD LAMBEAU!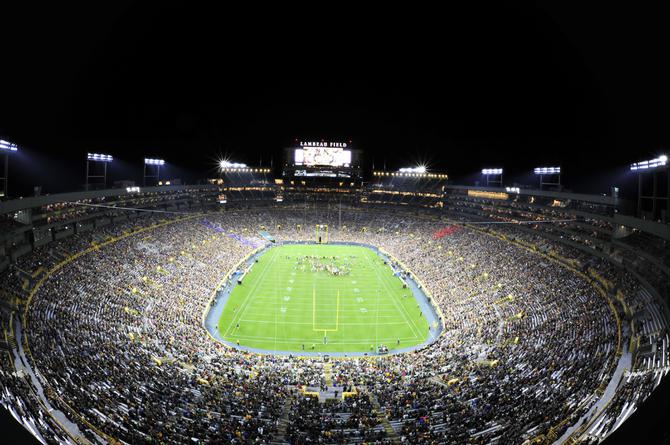 Origin of the Midwest Shrine Game
In 1950, Vince Lombardi made an agreement with George Halas to play in the Shrine Game annually. Each season, the Packers donate a percentage of the gate to the Shriners Hospitals For Children - Chicago.
The Shriners' facilities provide specialized care to children with orthopaedic conditions, burns, spinal-cord injuries, and cleft lip and palate, regardless of the families' ability to pay. Beja Shriners of Green Bay and the Tripoli Shriners of Milwaukee are two of 15 Shrine centers that support the Chicago hospital. To date, the series has raised more than $4 million for the Chicago hospital.
Reminders
While printed season tickets are still an accepted form of entry, PDF or 'Print at Home' tickets have been eliminated; those who purchased tickets online through the secondary market or have received forwarded tickets must use mobile tickets on their device to enter the game and are encouraged to download their tickets to their device prior to the game.
NFL STADIUM SAFETY POLICY: No bags or purses will be allowed inside Lambeau Field unless they are clear plastic, vinyl or PVC and are no larger than 12" by 6" by 12". Stadium cushions are also not allowed as a part of the policy, however, stadium seats and stadium pads that contain no pockets or zippers and are 18" wide or smaller are allowed. All fans entering Lambeau Field on gamedays will use walk-through metal detectors . For more information, visit packers.com/carryin .