Day two of our Disney World adventure took us to Disney's Hollywood Studios. This is where you will find classic thrill rides like Tower of Terror and new rides like Millennium Falcon: Smugglers Run in Star Wars Land. 
As soon as our shuttle dropped us off at the park about 2 hours after the park opened we headed straight to Star Wars Land. This is the newest part of the park and it's the busiest we wanted to make sure that we started there hoping the lines weren't going to be too long. We hopped in line for Millennium Falcon: Smugglers Run first which was about a 90 minute wait. While we were in line just ahead of us the character Rey was hiding behind a small group of men in line and then we saw two storm troopers walking by. They asked people in line if they had seen her to which everyone responded no. Then the troopers stopped right in front of our family and asked who was in charge and we all pointed at each other, then the lead trooper looked down at my 6 year old daughter Zoey and told her she needed to keep an eye on "him" pointing to my dad. She took that order very seriously and stuck with Papa the rest of the day.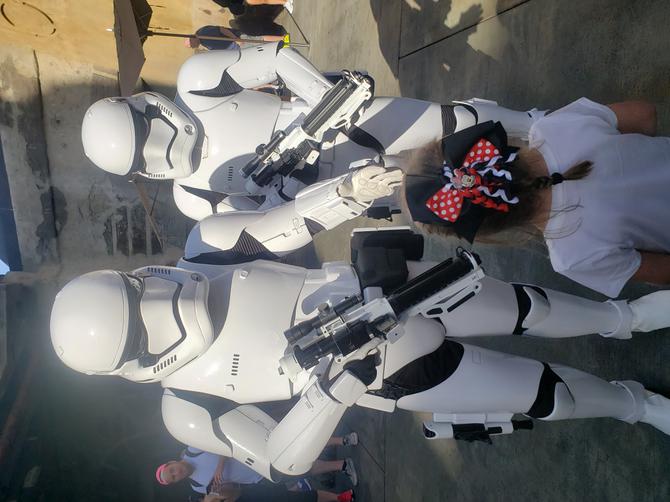 The whole Star Wars land is designed beautifully. There is so much to look at while you're waiting in line for the rides.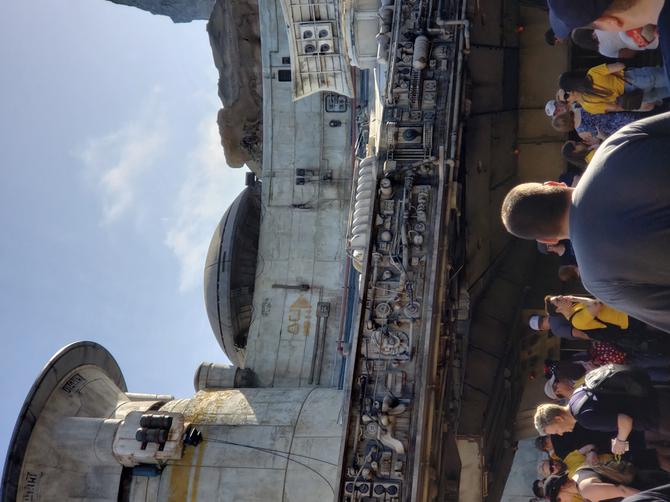 And the Millennium Falcon ride was pretty awesome.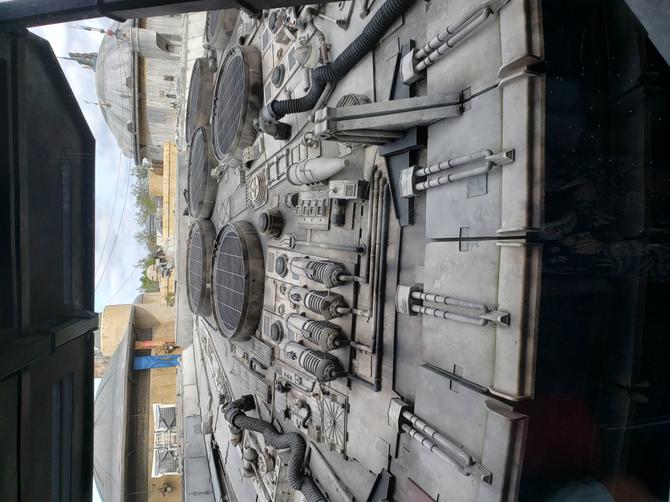 The weather was beautiful again 85 and sunny, but there is very little shade in this park so you only get a break from the sun while you're waiting inside for the rides. 
There are more thrill rides and roller coasters at Hollywood Studios that my kids had no interest in so while the rest of my family went on them we got to meet more characters. They have a section of the park dedicated to meeting Disney Junior characters so we jumped in line first to meet Fancy Nancy. She loved my kids' autograph books because they have flippy sequins on the cover and she pretended like she was going to keep them. Then played a little game of keep away with Mia's book. The girls thought she was so funny.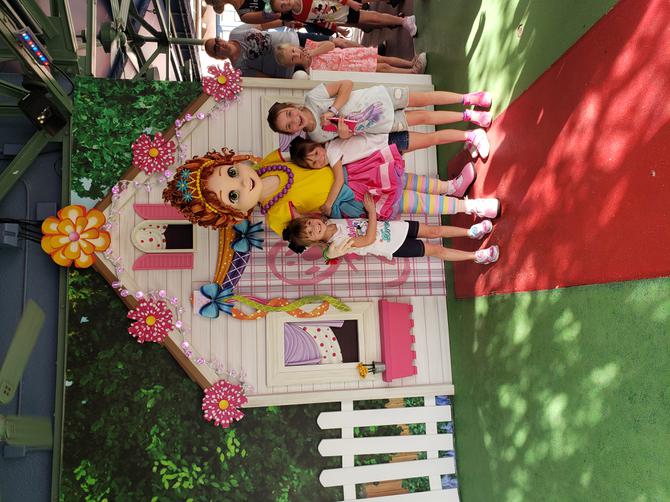 After meeting Fancy Nancy we jumped in the line next door to meet Vampirina. She's their favorite and they showed it, giggling, smiling and hugging her like crazy. The people working there got a real kick out of my girls and their excitement.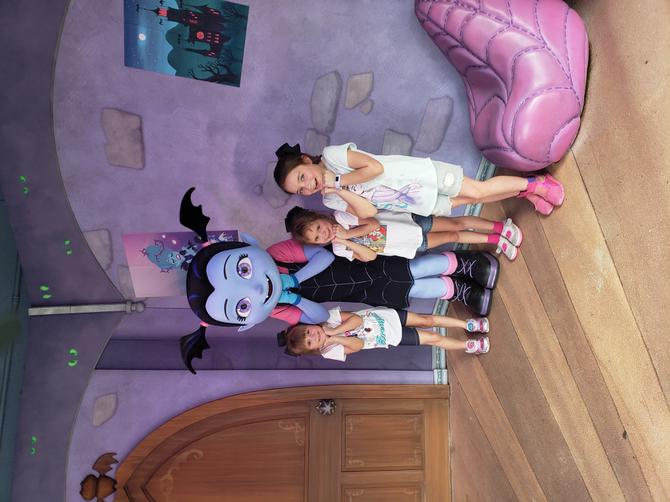 We all had such a great day! There's something for everyone at Disney's Hollywood Studios.
My tips for Disney's Hollywood Studios:
Arrive early. Get there as soon as the park opens and head straight to Star Wars Land to get your chance to ride Galaxy's Edge and the other Star Wars rides.
Beware of the sun. Wear sunscreen, a hat, and sunglasses because there is little shade to be found. 
Book your fast passes early. If you are staying at a Disney resort you can book your fast passes 60 days out and if you're staying elsewhere you can book them 30 days out. If you want fast passes for Star Wars land rides you need to book them as soon as you're allowed because they go fast.
Have your camera ready. You never know when you're going to see a character and if you want their picture you better be ready because they will not wait for you. We saw Kylo Ren and would have loved to get a picture of him, but we weren't fast enough. We couldn't get a picture of Rey either because we had to dig our phones out of our bags. Luckily we got them out in time to grab a photo of the storm troopers.
Have a plan. Decide what your must do rides are and make a plan using the park map to be able to minimize cutting back and forth across the park. Start with the newest rides or busiest parts of the park and work your way around from there.