When I went to Disney as a kid Animal Kingdom didn't exist yet so when we were planning our trip I really wanted to make that one of our stops. It's very different from the other Disney parks, it's much less character oriented. Though you do still get some of the theming for the rides and shows.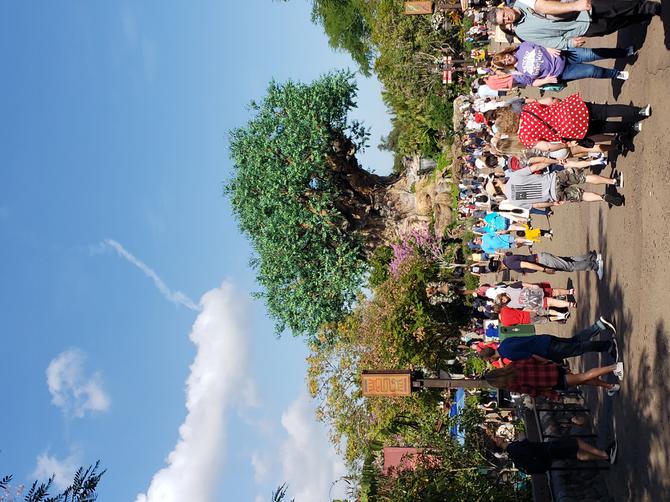 The Tree of Life is the first thing you see when you walk in to Disney's Animal Kingdom. This is a tree in the center of the park that has all sorts of animals carved into it. When you do the It's Tough To Be a Bug (A Bug's Life) ride you walk right under the tree and it's so cool.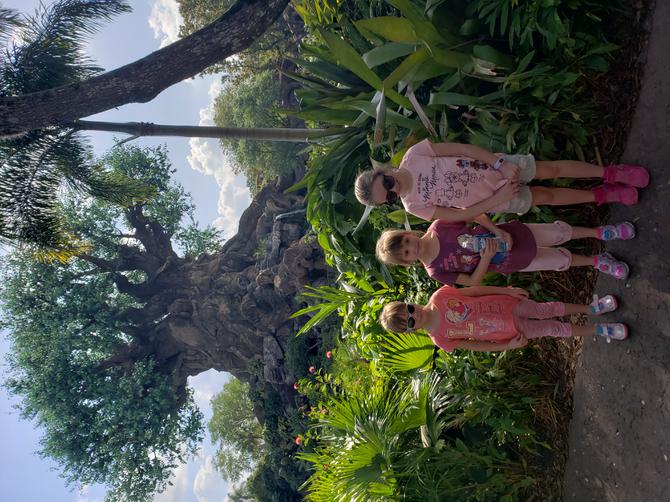 Animal Kingdom was a great choice for the last day of our trip because it is a bit more relaxing than the other parks and much more shady. It's smaller and there are fewer rides and more shows.
We took in two really good shows. The first was the Up bird show in which they taught us about different birds and the trained birds did fun tricks and flew through the audience.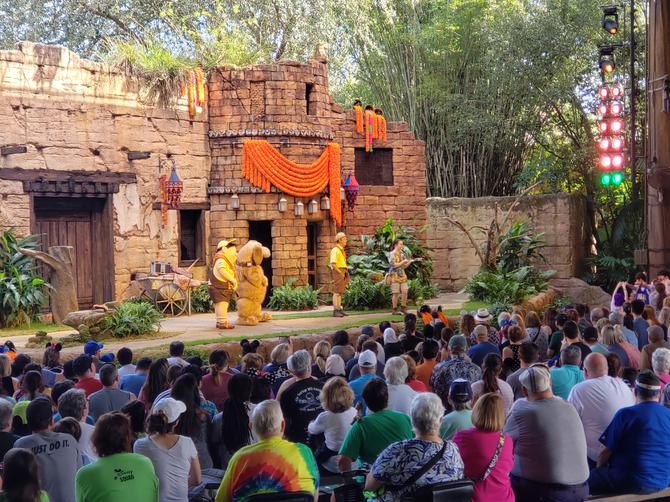 The other show was the Lion King show which was amazing! Singing, dancing, acrobatics, bright colors and totally worth watching.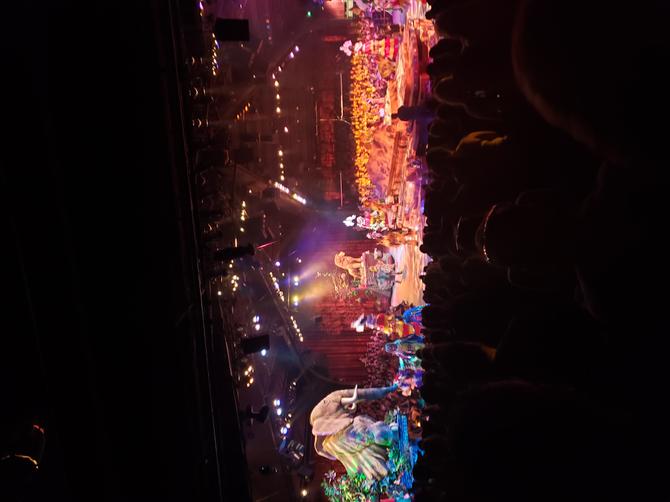 The one thing you absolutely have to do at Animal Kingdom is the Harambe Reserve Safari (we did wait 45 minutes for this one). You get to see all sorts of African animals which my kids loved because Giraffes are their favorites.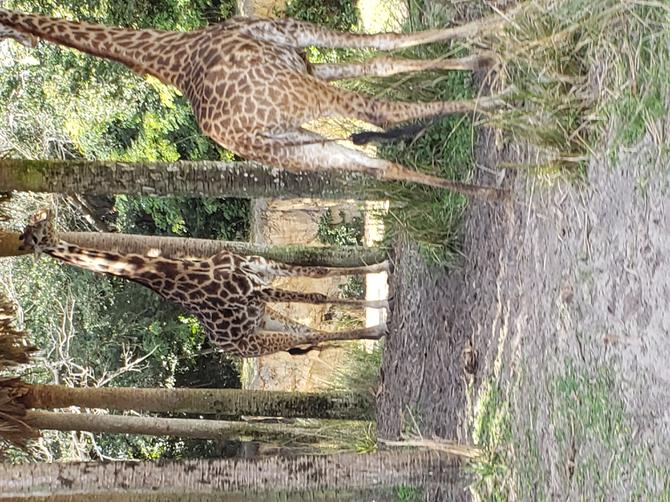 They do a great job telling you about the animals you see. They keep saying that education is the key to preserving these animals.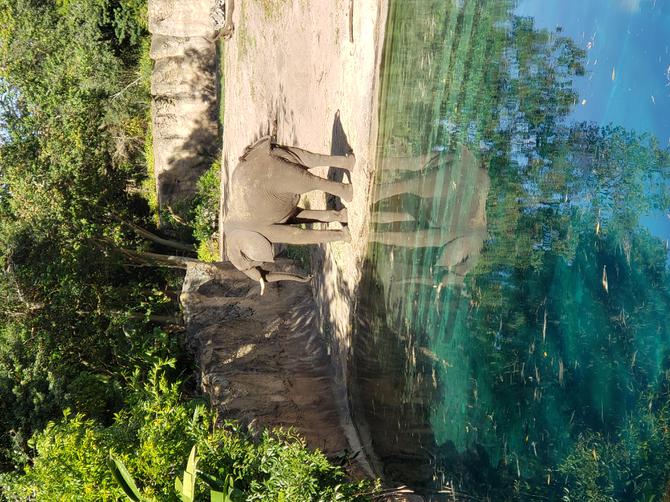 That was super fun, but the absolute highlight of the day was my kids meeting Minnie and Mickey! We didn't have to wait too long to get in to meet the mice. The kids had been looking forward to meeting them the entire trip. In Magic Kingdom they only got to see them in the parade so when we saw there was a "meet the characters" building we knew we had to jump in line. 
Just look at their faces! They couldn't conain their excitement. You can bet this picture is going in a frame and hanging in my house forever!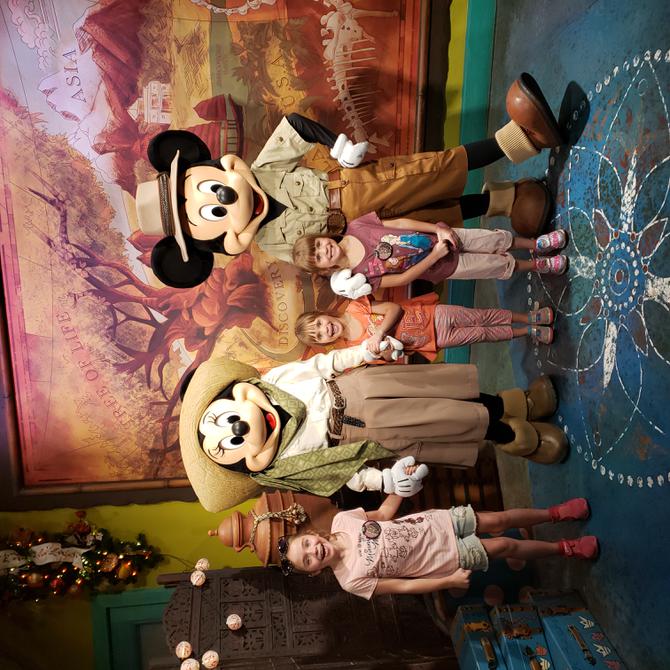 Everyone in the room was just laughing about how excited my girls were to meet these two icons. 
Tips for Animal Kingdom:
Pack snacks and water. Like the other Disney parks you're welcome to bring food and drink in, but there are certain areas they ask you not to have open food.
Bring binoculars. If you're going on the safari you might want to bring binoculars for viewing the animals in the distance, though the route does bring you pretty close to most of the animals so don't fret if you don't have them.
Take your time to check out your surroundings. There are viewing points and animals all over the park. Plus you might find Pocahontas tucked away down a shady path taking pictures along the pond. 
Watch the street shows. There are some fun street shows going on in each of the "countries" in the park. 
Have a game plan. If you're going during a busy time set your priorities and map out your route so you get to do everything you want to do. The safari will be the longest wait time, but well worth it.